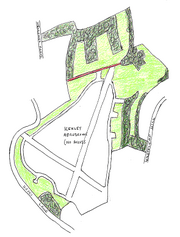 Kenley Common is owned and managed by the City of London as an open space. The aerodrome, immediately adjacent to the common, is still used by gliders. There is permissive access to the area outside the perimeter track and care must be taken when flying is underway.
Location
TQ3359
The main access is from Hayes Lane, but can also be gained from Kenley Lane.
Public transport
Train: Whyteleafe
Bus: 407 along Godstone Road
Habitat
Apart from the tarmac area of the aerodrome runway, there is a mixture of grassland and woods. Some of the site is on steep slopes.
Species
This is one of the few remaining sites in Croydon for breeding Skylarks. Some of these can be found on the aerodrome